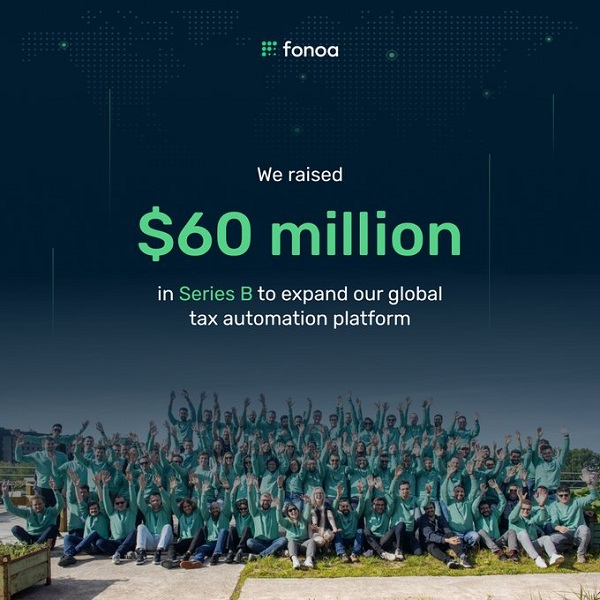 Ireland fintech Fonoa raises $60m to expand their global tax automation platform
Dublin-based tax automation platform Fonoa have raised $60 million to expand their global tax solutions. The Series B funding round was led by Coatue and included Dawn Capital, Index Ventures, OMERS Ventures, FJ Labs and Moving Capital.
The funding, which comes just six months after a $20m Series A round, underlines the success Fonoa have had in transforming the way digital companies including Uber, Zoom, Booking.com, Spotify, Teachable and Remote.com stay tax compliant.
The Fonoa platform is the first digital tax solution with global coverage, providing a plug-and-play modular platform that helps businesses convert a costly and complex process into an automatic and seamless one. Using a simple API solution, they determine and calculate the right amount of tax a business should pay, in the right place, at the right time. This results in greater profitability for customers who can reduce their operating costs and increase their tax compliance at the same time.
‍A one-stop solution for global digital businesses
Fonoa was founded by three Uber alumni – Davor Tremac, Filip Sturman and Ivan Ivankovic – who experienced first-hand how difficult it is to correctly calculate and report taxes to authorities throughout the world. The existing crop of tax software solutions have not been built for the digital age and require clients to bring on armies of implementation consultants on projects that could take many months to complete. Equally, software developers for these solutions don't always understand how digital-first businesses operate around the world, meaning customers can't quickly adapt a tool to their needs in specific countries. They built Fonoa from the ground up and developed a plug-and-play platform that allows customers to automate all relevant aspects to ensure tax compliance globally.